KISS Tour
End of the Road Final Tour 2021/2022
Don't miss the chance to see one of the world's top touring acts on stage.
Find concert near you
Find tickets for an upcoming KISS concert near you.
List of all KISS tickets and tour dates for 2021/2022.
Tue • Mar 10, 2022 • 07:00 PM
KISS – End of the Road Tour
United Supermarkets Arena, Lubbock, TX
Thu • Mar 12, 2022 • 07:00 PM
KISS – End of the Road Tour
BOK Center, Tulsa, OK
Sat • Mar 14, 2022 • 07:00 PM
KISS – End of the Road Tour
Lafayette Cajundome, Lafayette, LA
Sun • Mar 15, 2022 • 07:00 PM
KISS – End of the Road Tour
Mississippi Coast Coliseum, Biloxi, MS
End of the Road World Tour 2020
---
Known for their stage antics and spectacular live shows, Kiss has developed a huge following of fans through their touring – in fact, when the band first hit the big time it was arguably thanks to their high energy and impact performances. They announced their last tour, the End of the Road World Tour, in September 2018, and the first performance took place at the Rogers Arena in Vancouver, Canada, in January 2019. The last show is scheduled in New York City on July 17, 2021, and the tour takes in most of the world, from America to Europe to Asia to Africa.
KISS (Official Music Video)
Browse 2021/2022 KISS "End of the Road" Tour dates
and use venue seating charts to find cheap tickets.
Who is Kiss?
---
Rock band Kiss is currently comprised of frontman and bassist Gene Simmons, singer and rhythm guitarist Paul Stanley, drummer Eric Singer, and lead guitarist Tommy Thayer. The band has sold more than 100 million albums and the original four members – Simmons and Stanley, alongside Peter Criss and Ace Frehley – were inducted into the Rock and Roll Hall of Fame in 2014. The four members of the band portray four characters: the Starchild, the Demon, the Spaceman, and The Catman. The band's music has been inspired by a number of genres, from glam metal to hard rock to heavy metal to disco to prog rock.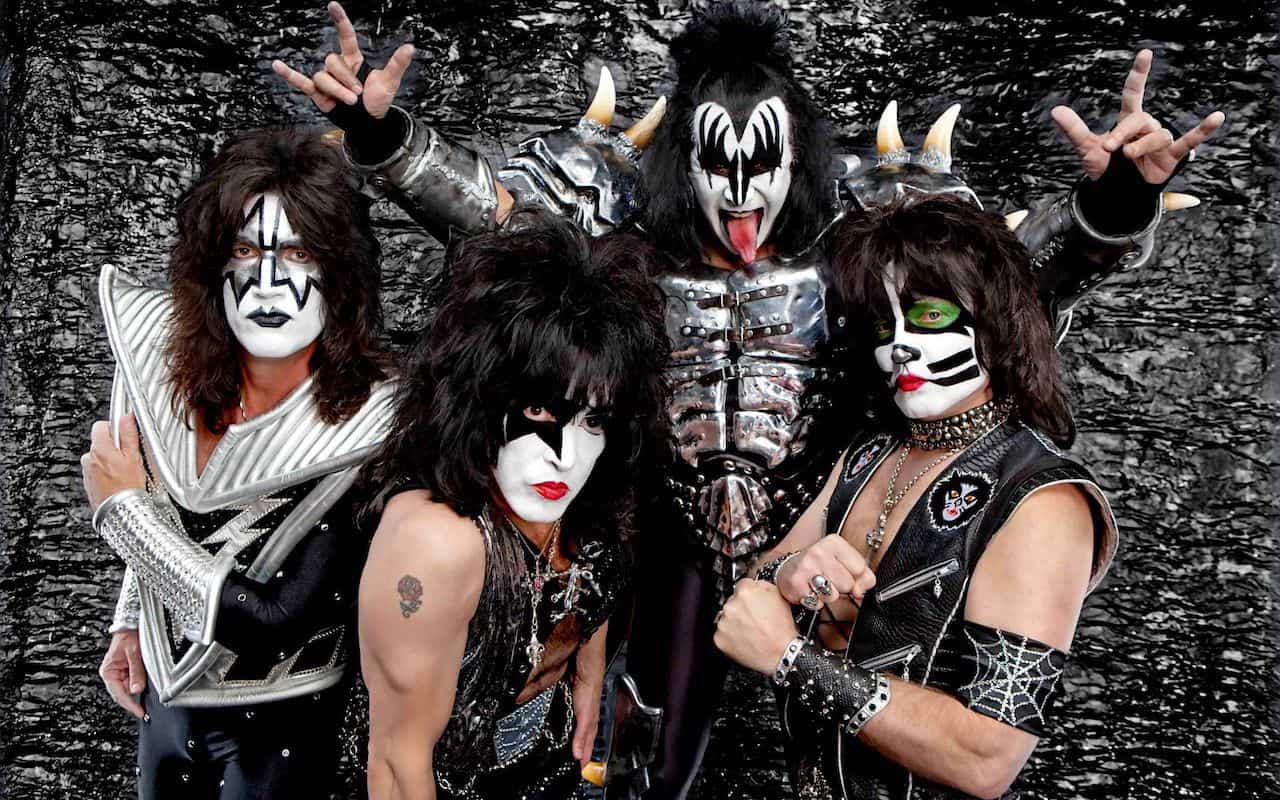 How did Kiss get famous?
---
The band formed in 1973 in New York and immediately started experimenting with their image using makeup and wild outfits. They played their first shows and released their first demo in 1973 before signing to Casablanca Records and releasing their debut self-titled album the following year. Their star began to rise because of their electric live shows which featured Simmons lighting his hair on fire, incredible lighting displays and pyrotechnics. They reached real stardom with their live album Alive!, released in 1975, followed by their 1976 platinum album Destroyer. The band is known for singles including Shout It Out Loud, Beth, and Detroit Rock City.